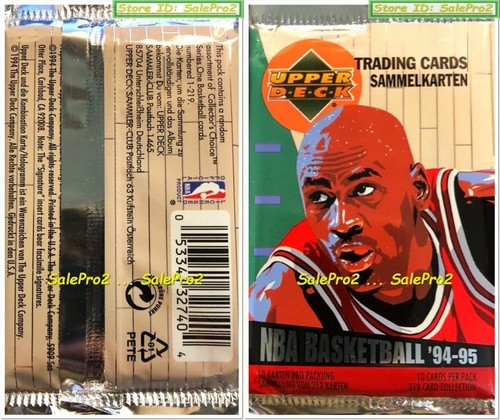 Price: 8.95 USD
Card Details:
UPPER DECK 1994 NBA RARE MICHAEL JORDAN RARE GERMAN/ ENGLISH FACTORY SEALED PACK
UPPER DECK 1994-95 NBA RARE MICHAEL
JORDAN PSA? GERMAN/ ENGLISH FACTORY SEALED PACK
STARS & & SUPERSTARS in THIS PACKS, GRADED,
SELLS FOR A SUPERB MARGIN PROFIT WHILE THE
CARDS ARE IN DEUTSCH (GERMAN) & & ENGLISH. ALWAYS IN
DEMAND & & LIMITED PACKS. COMPLETELY SOLD OUT OF BOXES!!!
THIS IS A CHANCE TO GET VARIETY CARDS OF SUPERSTARS YOU COLLECT
WHO KNOWS MAYBE TODAY IS ONE OF YOUR LUCKY DAYS IN LIFE!!!!!!!!!!!
BASKETBALL PACK IS IN FATORY SEALED, RARE & & OUT OF BOX CONDITION
Shipping:
2.55 CANADA,
2.95 USA & & 4.95 International (Worldwide)
We deliver quickly on everyday basis in Safe & & Secure product packaging to all locations
Any order $40 or more needs definitely tracking cost,
( CANADA 12.95, USA 16.95 & & INTERNATIONAL 29.95 ) PLEASE
quote appropriately. Any query simply drop us a message. Reply quick!
~ Additional product shipping charge is $ 1( Canada & & USA) along with( International) ~
We deliver all orders within 24-48 hours as quickly as your payment reaches us cleared
All photos are Watermarked with our User id or Store name to avoid image piracy

Paypal is our online payment approach, other approaches are offered throughout the checkout
.