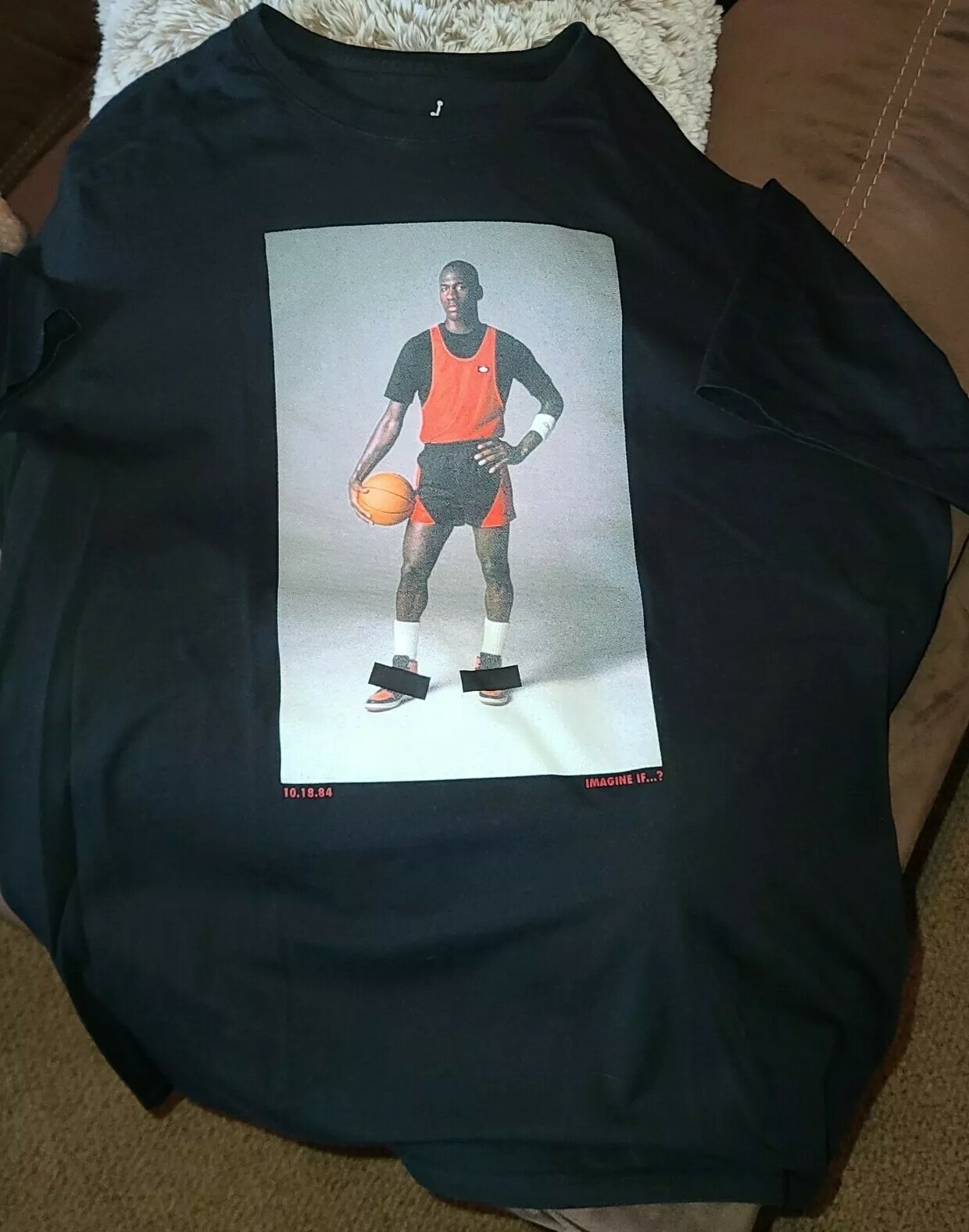 Price: 249.00 USD
Card Details:
NIKE AIR JORDAN 1 XL BLACK BANNED BY NBA & $5000. FINE PER GAME – BLACK T NWOT🏀
NIKE AIR JORDAN 1 XL BLACK BANNED BY NBA & $5000. FINE PER GAME – BLACK T NWOT🏀
MICHAEL JORDAN SPORTING THE ORIGINAL AIR JORDAN 1 SNEAKERS WITH BARS ACROSS THE FEET IN REFERENCE TO THE TIME WHEN HE AND NIKE GOT FINED FOR VIOLATING THE NBA's UNIFORM CODE BY SPORTING THE SHOES ON THE COURT. BELOW THE PHOTO IS THE DATE "10.18.84" WHEN IT ALL WENT DOWN, ALONGSIDE THE WORDS "IMAGINE IF …?", WITH A JUMPMAN LOGO ON THE BACK.
10.18 – THE DAY THE GAME CHANGED FOREVER
MATT HALFHILL | OCT 18, 2016
ON OCTOBER 18, 1984, A YOUNG ROOKIE NAMED MICHAEL JORDAN TOOK THE COURT IN A PRESEASON GAME IN MADISON SQUARE GARDEN WEARING A PAIR OF BLACK AND RED SHOES THAT DID NOT FIT WITHIN THE NBA's UNIFORM POLICY.  MICHAEL JORDAN WAS INSTRUCTED BY THE LEAGUE NOT TO WEAR THE BLACK AND RED SHOES, BUT HE DEFIED THEIR ORDERS.  THERE IS NO KNOWN VIDEO FOOTAGE OF THE GAME AND ONLY A HANDFUL OF BLACK AND WHITE PHOTOS EXIST.
THE FOLLOWING MONTHS, MICHAEL JORDAN'S FOOTWEAR WAS IN COMPLIANCE WITH LEAGUE WISHES.  HE WORE WHITE/NATURAL AND WHITE/RED SHOES, BUT COMPLIANCE SWITCHED BACK TO DEFIANCE WITH THE INTRODUCTION OF THE ONE THAT CHANGED IT ALL.
ON FEBRUARY 10, 1985, MICHAEL JORDAN TOOK THE COURT AGAIN IN A BLACK AND RED PAIR OF SHOES, BUT THIS TIME, IT WAS ON A STAGE MUCH GRANDER THAN EVER – THE NBA SLAM DUNK CONTEST.  IN FRONT OF THE ENTIRE COUNTRY ON NATIONAL TELEVISION AT AN NBA HOSTED EVENT, MICHAEL JORDAN SPORTED A GOLD ROPE CHAIN AND A PAIR OF BLACK AND RED AIR JORDAN 1s –  THIS WAS THE FIRST TIME THAT MANY GOT TO SEE THE SHOES IN ACTION ON MICHAEL JORDAN.
SORRY BUT WE DO NOT COMBINE SHIPPING
PLEASE MESSAGE ME IF YOU HAVE ANY QUESTIONS OR CONCERNS…
PLEASE DO NOT ASK TO CANCEL YOUR BID, OFFER, OR PURCHASE. OR BEACUSE YOUR "KIDS ACCESSED YOUR ACCOUNT" I WILL NOT CANCEL THEM…
PLEASE NOTE: YOU WILL GET THE SAME ITEM(S) YOU SEE IN MY PHOTOS
PLEASE LOOK AT ALL MY PHOTOS TO SEE THE QUALITY
PLEASE JUST LMK IF YOU HAVE ANY QUESTIONS ABOUT THE ITEM PICTURED OR NEED MORE INFORMATION OR PICTURES…
THE PICTURES OF THE ITEM MAY SHOW SHADOWS AND GLARES THAT ARE NOT ON THE ITEM.  
DUE TO THE SHINE, IT REFLECTS LIGHT FROM SEVERAL SCANS AND PICTURES
IF THE BEST OFFER OPTION IS BEING DISPLAYED, PLEASE UTILIZE THIS FEATURE TO PLACE A REASONABLE OFFER…
PLEASE DO NOT MESSAGE ME AND ASK "WHAT IS THE BEST I CAN DO" ON THE ITEM LISTED!
PLEASE BE SURE TO SEE ALL MY PICTURES FOR THE EXACT SPECIFICS AND DETAILS, CONDITION AND QUALITY
PLEASE CONTACT ME IF YOU NEED ANY MORE PICTURES, INFORMATION OR DETAILS
I AM A TRUSTED SELLER WITH 100% FEEDBACK
PLEASE BUY OR BID WITH CONFIDENCE
PLEASE L👀K AT MY OTHER LISTINGS