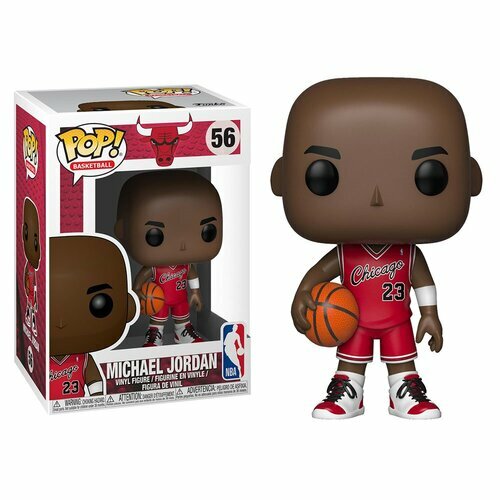 Price: 38.21 USD
Card Details:
NBA Bulls Michael Jordan Rookie Uniform US Pop! Vinyl
A rare find, this Michael Jordan POP shows the NBA hero in 1984 Chicago Bulls rookie uniform at the beginning of his greatness! It's an awesome gift for basketball fans!
Well done, you have just found the greatest gift for your NBA obsessed boyfriend or husband! This rare Funko POP Michael Jordan figure shows him in his rookie uniform and number 23 jersey from his very first season with the Chicago Bulls back in 1984.
Michael Jordan is a true basketball legend! He took the Chicago Bulls to an incredible six NBA Championships during the 90s as well as being part of the US men's Olympic team. During his long career (1984 – 2003) he received numerous awards and accolades including Rookie of the Year, MVP and even the Presidential Medal of Freedom!
Jordan is famous for an amazing dunk during an exhibition game in Italy which smashed the glass in the backboard! He's also known for having a popular pair of Nike sneakers named after him and featuring in the movie Space Jam.
This Funko POP figure of Michael Jordan represents him in the early days of his career. He is seen wearing the red and white Bulls uniform with 80s style
Product Specifications:
NBA Chicago Bulls player Michael Jordan in rookie uniform
Number 56 in the Funko POP Basketball line
Made of plastic/vinyl
3.75″ tall
WARNING: choking hazard. Small parts. Not suitable for children under 3 years of age.
A rare find, this Michael Jordan POP shows the NBA hero in 1984 Chicago Bulls rookie uniform at the beginning of his greatness! It's an awesome gift for basketball fans! A rare find, this Michael Jordan POP shows the NBA hero in 1984 Chicago Bulls rookie uniform at the beginning of his greatness! It's an awesome gift for basketball fans! Well done, you have just found the greatest gift for your NBA obsessed boyfriend or husband! This rare Funko POP Michael Jordan figure shows him in his rookie uniform and number 23 jersey from his very first season with the Chicago Bulls back in 1984. Michael Jordan is a true basketball legend! He took the Chicago Bulls to an incredible six NBA Championships during the 90s as well as being part of the US men's Olympic team. During his long career (1984 – 2003) he received numerous awards and accolades including Rookie of the Year, MVP and even the Presidential Medal of Freedom! Jordan is famous for an amazing dunk