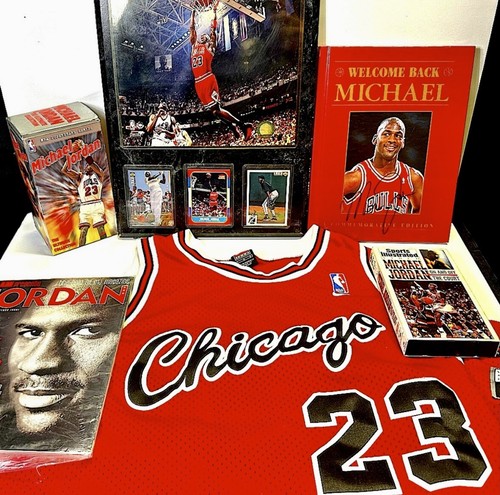 Price: 2,300.00 USD
Card Details:
Michael Jordan Rookie Card & Book Auto Lot




Michael Jordan Rookie Auto Lot
Rare collection & a great investment!
Authentic Upper Deck Memorabilia Michael Jordan Photo Plaque with 3 Cards
MICHAEL JORDAN 1994 Upper Deck Collectors Choice #204 Pro Files Golf HOF Card
1986 Fleer Michael Jordan Rookie Card RC #57 (I think it's authentic and the local card shop thinks it's authentic too)
MICHAEL JORDAN 1994 UD Upper Deck Collector's Choice WHITE SOX ROOKIE CARD #23
Welcome Back, Michael Hardcover Book with Authentic Michael Jordan Autograph
From his boyhood to his triumphant return to the NBA in 1995, Jordan's life is told in complete detail. Over 100 color photos.
Authentic Nike Flight 8403 Rookie Chicago Bulls Michael Jordan Authentic Road Jersey
Size Large
Excellent Condition
1996 Michael Jordan: The Ultimate Collection VHS 3-Tape Set.
Includes Air Time, Come Fly With Me and Above & Beyond.
SLAM PRESENTS MICHAEL JORDAN MAGAZINE.
100% MJ
1997 COLLECTORS ISSUE.
1993 Michael Jordan Sports Illustrated On and Off the Court VHS
This collection is from my Dad who passed it down to me.
If it doesn't sell by Christmas I'm sending it to PSA.