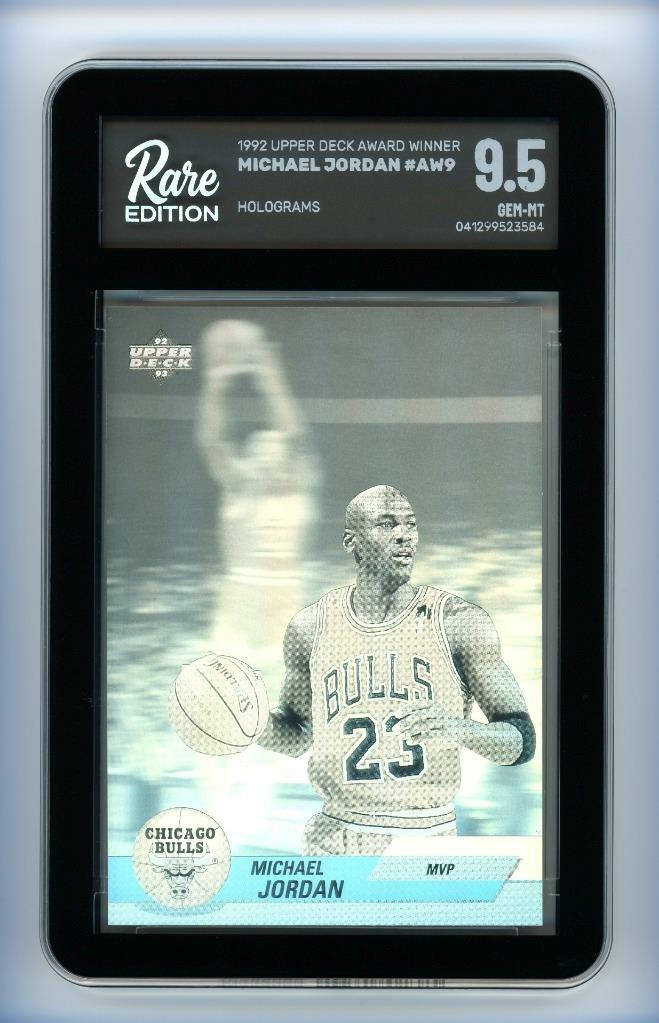 Price: 399.99 USD
Card Details:
MICHAEL JORDAN 1992-93 Upper Deck Award Winner HOLO Rare Edition RE 9.5 Gem Mint





MICHAEL JORDAN 1992-93 Upper Deck Award Winner HOLO Rare Edition RE 9.5 Gem Mint


Click images to enlarge
This auction is for the following item
1992-93 Upper Deck – Award Winner Holograms #AW9 Michael Jordan
Rare Edition Graded 9.5 Gem Mint


Corners 9.5
Centering 9
Edges 9.5
Surface 9.5
Card(s) pictured are the actual cards you are bidding on
So, you are asking yourself, who is Rare Edition & why should I trust their grading? 
They are a start up company based in CA & OR who are trying to take the guess work out of grading and update the grading process to catch up with modern times.
The old method involved two people with lighted 10x magnifying glasses manually measuring and inspecing each card noting the flaws and determining a grade.  Then comparing numbers and settling on a grade.  This has been the method for decades.  Everything done manually.  
Rare Edition is taking grading into the next century by using high resolution imaging and learning software (Phoenix Grading System) to streamline the grading process.  Yes humans are still involved, but the AI is doing the heavy lifting. 
Their holders are CRAZY.  Until you have held one in your hand you won't believe the quality.  After holding one of their cases, a PSA holder feels like a toploader.  
They are Ultrasonically sealed and use Gorilla Glass.  It honestly feels like a cell phone and the included rubber bumper enhances that feeling.  I think you could run over this think with your car & not damage the case or card.
The holder provides the industry standard 4 subgrades, but also includes a QR code you can scan that will take you to a summary of the card that includes high resolution scans and a more detailed grading report.
I have sent over 100 cards in and their grading is tough, but very consistent.
Their turn around times are crazy fast and their fees are pre-pandemic level.  Their economy service is 60 days for under $30 plus shipping and I got my first batch back in about 45 days.  The standard is just under $50 plus shipping and has a 30 day turn  around time (mine came back in 24 days).  They have an expedited service as well if you need your cards quicker.  They don't make you upgrade the service based on the value of the card.
Please look up Rare Edition Grading & judge for yourself.
 
DOMESTIC shipping and handling will be FREE
Please pay for EVERYTING you win at once, not individually.  I am offering free shipping, so please don't bury me in the extra fees associated with extra transactions.
At this time we are not shipping internationally
I accept Credit Cards thru PayPal and now eBay has started processing CC
PayPal orders will be shipped to CONFIRMED ADDRESSES ONLY!


THE simple solution for eBay sellers.