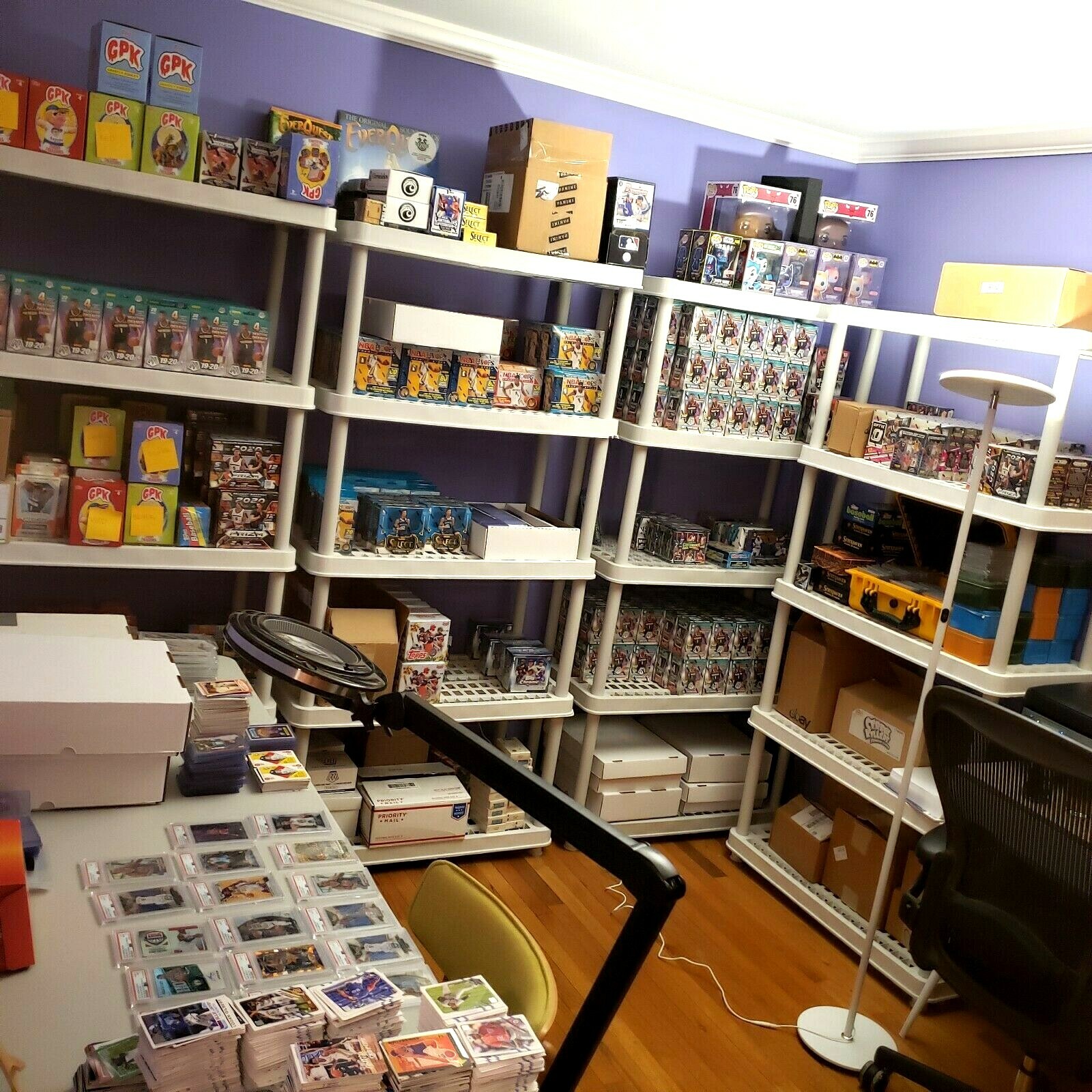 Price: 200,000.00 USD
Card Details:
MASSIVE SPORTS CARD COLLECTION PSA HGA SEALED PRODUCT GRADED BASKETBALL MODERN
I am selling my entire sports and non-sport trading card collection.  The bulk of it is in sealed sports card boxes. I am currently compiling a list of everything, so far, the PDF has all the sealed product and the majority of the higher end cards (graded, and non-graded). 99% of the contents is modern sports cards, from 2014-current year.  I estimate that there are approximately 80,000 single cards. 
My goal is to be as transparent as possible.  I am entering mainly the better stuff into the database.  There are thousands of cards worth $1-$5 that will not be on the list, due to it being too labor intensive to list each card. 
There are thousands of non-sport singles hits; autos, numbered cards, patches, from Star Wars, Garbage Pail Kids.  Lots of Marvel cards, select soccer.
The reason I am selling my collection is because I have lost interest in the hobby.  My interest lie more with crypto and NFTs now, and this inventory is just sitting here.  
This collection would be amazing for a shop owner, someone who goes to shows, or someone looking to grade a bunch of these cards.  Just before PSA closed down, I had prepped a few hundred cards, which are included.  This lot is also great, since all these cards are mostly modern.  
Here are some highlights from the sports collection:
1. 7x FOTL 2019-20 Select Basketball Boxes
2. 1 sealed case of 2017 Donruss Optic Football Blasters
3. 56x 2019-20 Optic Basketball Mega Boxes
4. 189x 2019-20 Mosaic Basketball Blaster Boxes
5. 76x 2019-20 Mosaic Basketball Hanger Boxes
6. 7x FOTL 2019-20 Optic Basketball Boxes
7. 1993 Fleer Ultra Scoring Kings Michael Jordan PSA 8 
8. 2014 Prizm Stephen Curry True Silver PSA 10
9. 2016 Jaylen Brown Mosaic Gold Prizm Auto PSA 9
10. x2 2015 Kobe Bryant Select USA #209 PSA 10
Here are few highlights from the non-sports collection:
1. 4x Flesh and Blood Crucible of War 1st Edition Boxes
2. x3 2013 Chrome Silver Adam Bombs
This listing will be pick-up only. I am looking to sell this all in one shot, and I will not be breaking it up. 
PDF of the breakdown will be provided upon request.  This file is a work-in-progress, although the majority of the higher end product is already accounted for. 
I will do my best to answer any questions you may have.
Thanks very much for viewing.