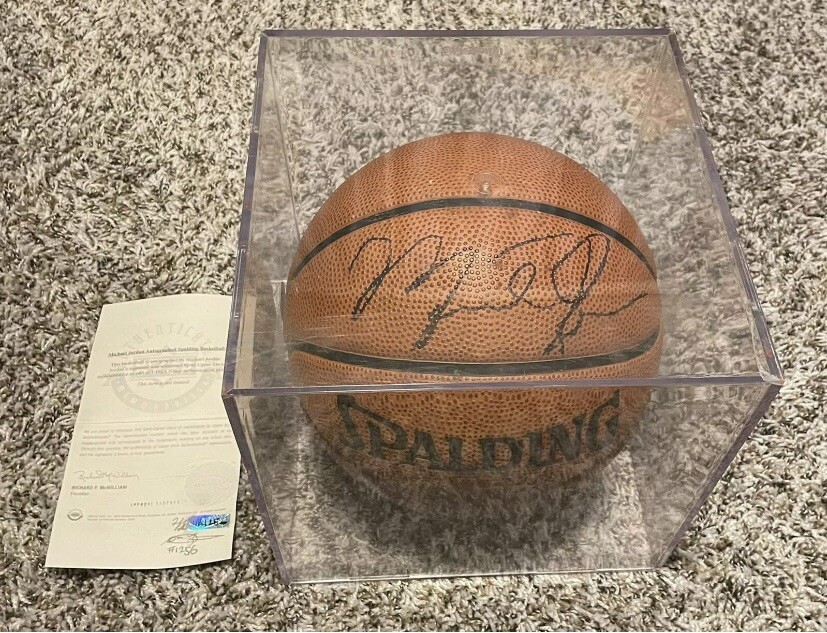 Price: 9,999.00 USD
Card Details:
DID U BUY THIS? Michael Jordan signed basketball UDA Auto Autograph READ! LEARN!




Michael Jordan signed basketball UDA Auto Autograph READ LEARN! Someone has this ball currently listed on here and it's fraudulent! The signature is fraudulent. The COA is either a fake or came from another ball! The holograms are not right!
If you're looking for a REAL AUTHENTIC Michael Jordan autograph look up UDA Michael Jordan on Ebay. Familiarize yourself with the Upper Deck product and MJ's signature! Buy an item that Upper Deck put out! Jordan has had an exclusive contract with Upper Deck since 1992-93. He was paid millions to only sign for Upper Deck! At least 99 percent of the Jordan autographs out there that are not Upper Deck certified are FAKE!! I don't care how pretty the COA and hologram! They're FAKE! A 100 percent real UDA Jordan jersey is at least $3-5,000. The FAKES go for $500-1000. Why? Because they're FAKE! $500 is not a deal if it's FAKE! It's really worthless!! The picture with this item is currently on Ebay! It is a tampered with ball. The signature is not Jordans unless he had a stroke. This is a fake UDA Jordan item! Same goes for Kobe, Lebron, and Brady!! They're heavily faked and have had exclusive contracts with Upper Deck and Panini. Brady Upper Deck and TriStar. Stick with Upper Deck, Steiner, vintage TriStar. I've seen fakes of PSA Jordan items. I'm sick of seeing people pay $500-1000's for FAKE GARBAGE! DO YOUR RESEARCH!