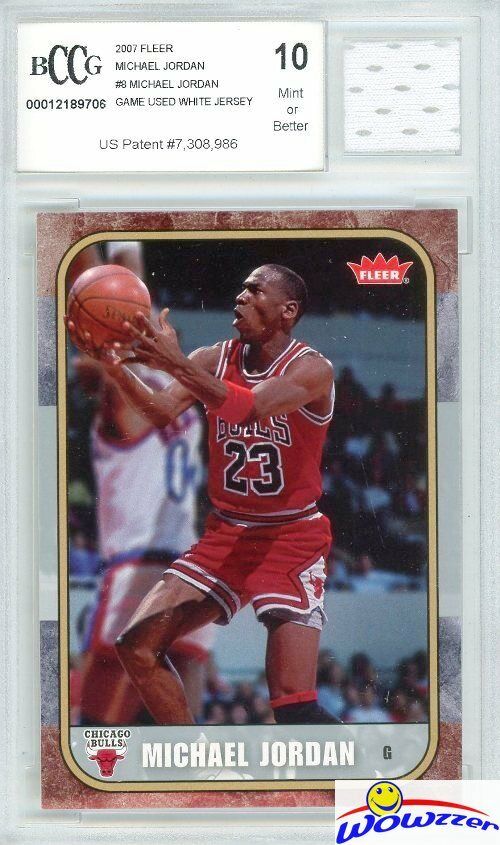 Price: 99.95 USD
Card Details:
2007 Fleer #8 Michael Jordan+Game Used Jersey BECKETT 10 MINT 1986 Fleer Design

---

 

 

2007 Fleer #8 Michael Jordan+Game Used Jersey BECKETT 10 MINT 1986 Fleer Design

---

: DESCRIPTION :

Wowzzer! Check out this incredible authentic unique Michael Jordan Game Used collectible! We are Proud to offer this 2007 Fleer #8  Michael Jordan card in his 1986 Fleer Rookie Design that is Graded High BGS BECKETT 10 MINT that includes a Piece of Authentic Original Game Used Jersey Piece from Michael Jordan's Original 1997/98 Game Used Chicago Bulls Home Jersey! Yes, Jordan Actually wore this Jersey during the Bulls 1997/98 NBA Championship Season! This Game Used Jersey was cut up and you are getting a Piece of Jordan's Jersey with a Jordan card that is graded High BGS BECKETT 10 MINT! This original 1997/98 Michael Jordan Chicago Bulls Game Worn Jersey was purchased on Auction from the World Famous Lelands Auction House! Original Bulls Michael Jordan Jerseys have sold as high as $15,000- $20,000! Please keep in mind that Jordan wore this Home Jersey during the Bulls NBA Championship Year of 1997/98- the last year he won a NBA Title! We worked with GGum Cards and Beckett to cut the Jersey into Pieces and grade a Piece of the Jersey with the Jordan Card to create a Piece of Jordan Game Used History in a more affordable manner for all his fans around the world! This is an incredible chance not only to get a High Grade Michael Jordan card but also to get it with a Piece from his Original Game Used Jordan Jersey! This is a very unique, one of kind Jordan collectible since each Game Used Jersey is unique- your jersey piece may look slightly different from the one pictured in the scan!   Every Jordan collector around the world is going to want to own a piece of this unique Jordan collectible! Also check out the picture of the original 1997/98 Michael Jordan Game Used Jersey before it was cut into pieces! The High Grade Jordan Card that is included with this Piece of the Jersey is from the Very Special 1986 Fleer Rookie Design subset produced in 2007 ! This Card has the Exact Same Design as the Famous 1986 Fleer Michael Jordan Rookie

We stock a Huge Selection of Factory Sealed Boxes from every Sport!
       Plus the Largest Collection of Graded Cards in the World!
       We discount shipping for most items paid at the same time!
   ***Be Sure to Check out our 1,000?s of other Items for Sale***




---

Shipping

ALL Orders ship Insured. We do not offer uninsured shipping rates.

Shipping covers the Processing, Handling, Shipping and Insurance Fees for you order.

We Never discount the listed Insured Shipping and Handling rates and discounted additional rates.

Combined Shipping and Discounted Combined Shipping Rates

To Qualify for Discounted Combined Shipping Rates:

Items Must be on One Invoice and Paid and Shipped together.

Items won after an invoice is paid are Not eligible for combined shipping with an earlier invoice.

Wait to pay until all items have been won OR 3 days after oldest item was won.

Please refer to the Shipping and payments tab to find this items regular shipping rate and the applicable percentage discount off the regular rate.

The discount listed Only applies if this item does Not have the Highest regular shipping rate of the items being combined for shipping.

Please Note– Shipping on certain Larger and Heavier items is Not discounted. Shipping on most larger items to Alaska,Hawaii and PO Boxes have additional shipping costs beyond the United States Shipping rates listed.

Shipping and Delivery Estimates

We take Pride in the Fast shipment of all Orders.

We Ship all Paid orders within 1-3 Business days of receipt of Payment.
(Please Note – we are not open on the Weekends and Holidays)

| | | |
| --- | --- | --- |
| Region | Shipping Time | Delivery Time From Receipt of Payment |
| United States | 3-9 days | Within 2 weeks |
| Canada | 7-20 days | Within 3 weeks |
| International | 14-30 days | Within 4 weeks |

Customs Note

We always list the FULL value of orders on customs forms for insurance purposes. This allows us to reship or refund customers in the case of lost or damaged items. We will NOT list a lower value or mark orders as gifts.

We are NOT responsible for Customs fees on International orders. The shipping costs listed cover the processing, handling, shipping, insurance, and postage fees for your order. You are responsible for any customs, duties, or taxes that have to be paid to take delivery of your order.

---

Sales Tax

Sales Tax is applicable in California.

---

Payment


We ONLY ACCEPT PAYPAL PAYMENT. Payment is due within 3 days of your first auction win for Most Item. Some Higher Ticket items payment is due sooner, but this information is clearly stated in the auction description.




---

Return Policy

Please contact us through eBay's Message system or the Ask a Question link on any of our listings within 48 hours of receiving your order to get approval for a return. Please contact us if there are any problems, questions, or concerns about your items. We answer all emails within about 24 hours, Monday through Friday, and work to resolve all problems as quickly as possible. Unless an item is damaged, it generally needs to be in the condition it was received, either undamaged or factory sealed, to be eligible for a return.

Note on Factory Sealed Boxes and Cases and Graded Cards


On listings for a factory sealed box or case, any cards shown are images of manufacturer?s samples and are not guaranteed to be in any particular box or case. 

On Listing for Beckett BGS Graded Cards-The scan of the card pictured is the Grade and the Card you are bidding on, but the subgrades may be different from those pictured in the scan

---

Contact Us

We can be contacted through eBay's Message system or the Ask a Question link on any of our listings. We answer all emails within about 24 hours Monday through Friday. We are an Internet only company; we do not have a retail location. We communicate with our customers entirely through email, so please be aware that if you email us outside of our standard business hours, it may take us a little longer to return your email.

 

 

---
---
On Jun-16-20 at 23:36:45 PDT, seller added the following information:

Spending hours revising items one-by-one? Try Vendio Reviser!
---
On Sep-16-20 at 20:21:43 PDT, seller added the following information:

Spending hours revising items one-by-one? Try Vendio Reviser!
---
On Feb-06-21 at 13:23:21 PST, seller added the following information:

This seller's listings automatically revised with Vendio Reviser.