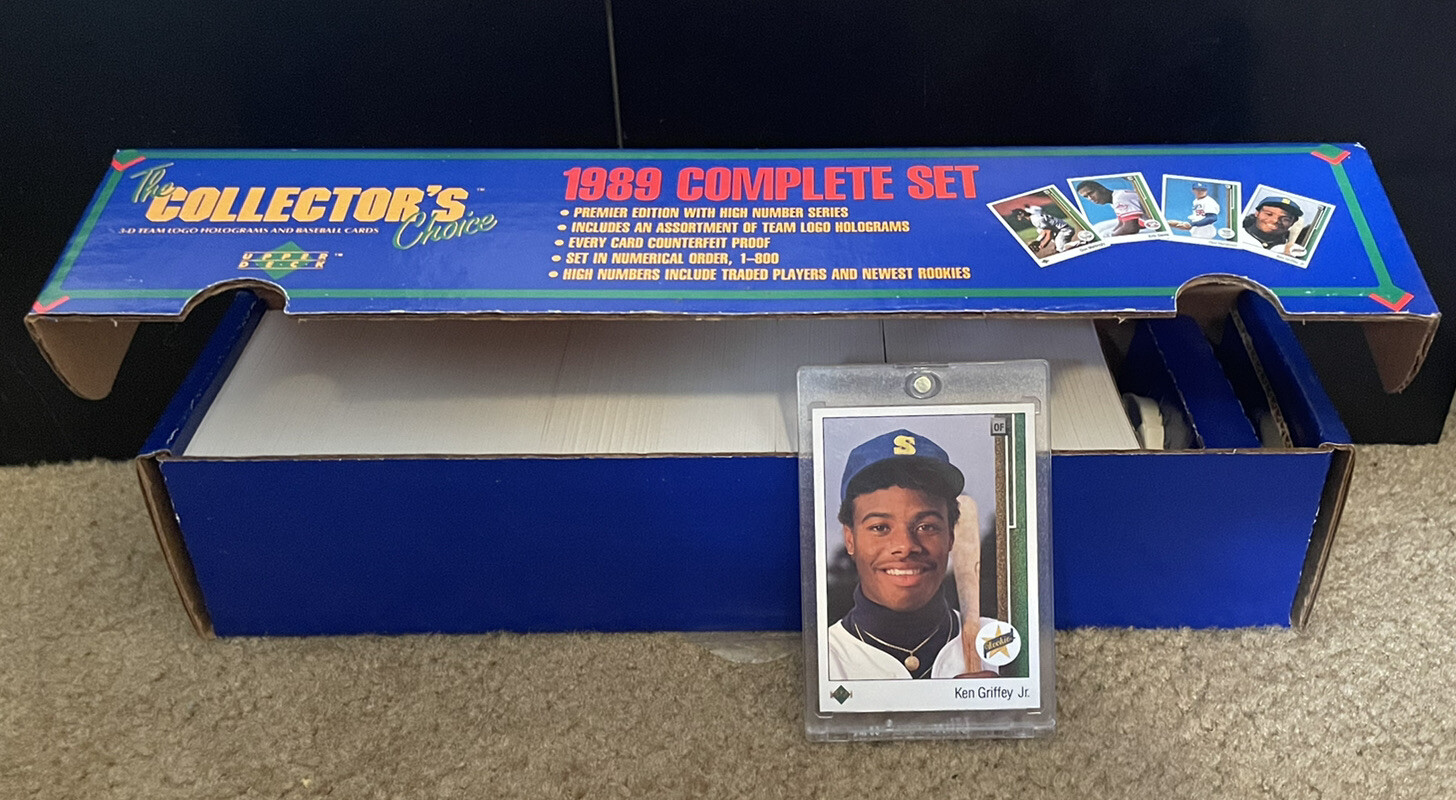 Price: 499.99 USD
Card Details:
1989 Upper Deck Baseball Complete Factory Set*NEW*👀Ken Griffey CENTERED/CLEAN!
This set has been unopened and in its original packaging (the brown box in the 2nd picture) 📦 and mailed to my house when my father purchased it. I decided to open the box to see the centering on the Griffey Jr Rookie Card and it's centering is amazing and definitely worth getting graded!
The Ken Griffey Jr Card #1 Card is the only card that has ever been taken out of this set so all of these cards would absolutely be considered Mint+ condition and brand new just out of the factory plastic.
This would be a great purchase for a collector who has a high chance at getting an amazing grade in Ken Griffey Jr Rookie Card or for investors since I would assume there's only going to be an increase in value as the years go bye with this card/set. This is one of the best players to ever play the game of baseball and one of the most desired MLB cards. This was also Upper-Deck's first time doing any type of card like this so it has already made the history books.
From Golden Card Auctions about this card:
"Without a doubt one of the most iconic cards of all time and one that would help to change the face of baseball card collecting forever. It features a headshot of a young Ken Griffey Jr. with his trademark cheeky smile and a bat thrown over his shoulder.
The 1989 Upper Deck Baseball set, rather against the grain, put quality above all and charge $1 a pack which is almost double its nearest rivals at the time and boy did it pay off.
[irp posts="7210″ name="Card Chronicles: 1989 Upper Deck Ken Griffey Jr. Rookie Card"]
The double-sided, fool wrapped card printed on high-quality paper with a hologram and sold in tamper-proof packaging was revolutionary.
Griffey Jr.'s MLB career with the Seattle Mariners and beyond would only add to the legend of the card, with the outfielder going on to play in 13 All-Star games, win 10 Gold Glove awards, 7 Silver Slugger awards, and be named the 1997 MLB MVP"
Junior would go on to be elected to the Hall of Fame in 2016
GOOD LUCK AND ENJOY
—If you would like more pictures please feel free to ask and I'll will send you as many as you want
🎖Collectables
– ALL CARDS BOUGHT WILL INCLUDE A FREE CARD OF THE SAME CATEGORY! 👀 👀FOLLOW THE STORE UPON ANY PURCHASE, MESSAGE THE STORE AND YOU WILL RECEIVE A 20% COUPON👀
-30 day (No Questions Asked) Return Policy For All Items
-All items are original unless specified in the title and again in the description. If it isn't original, it will be very well described as non-original or reprint
-The item/s in the picture are the exact item/s you will receive
-Prices on all items are based on the condition of the item
PLEASE ASK FOR ADDITIONAL PICTURES IF YOU REQUIRE THEM TO DETERMINE THE CONDITION OF AN ITEM
Bhbyun buy i
-All items will be shipped USPS First Class and a minimal shipping fee will be added. If you have another shipping preference, please message me. Tracking is provided for every purchase
-States that have now implemented regulations for internet purchases are required to pay their state sales tax on items. This is state law and eBay policy; not my own
-Cannot under report value or mark packages as gifts since it is prohibited
-All items will be shipped within 24-48 hours of payment. If you need an item ASAP, please send a message
-All Transactions will be made on eBay. We do not entertain unsolicited offers and will not adjust pricing or end auctions early
-Tracking will be added automatically once item/s have shipped
-If an item does not have an offer option then we are not accepting offers for that item currently. Please do not purchase an item with the intent on negotiation price
FREQUENTLY ASKED QUESTIONS
HOW TO CONTACT: Contact for any reason through eBay Messages. We will respond quickly
RETURN POLICY: You may return any product purchased for the full amount refunded within 30 Days of the purchase (NO QUESTIONS ASKED)!
DO WE BUY COLLECTIONS: YES! We're always looking for full sets of non-sports/sports trading cards,b and comic was book collections. Please feel free to get ahold of me if you think we would be an interested buyer for any item you have.
👀 👀 FOLLOW THE STORE UPON ANY PURCHASE
👀MESSAGE THE STORE AND YOU WILL RECEIVE A 20% COUPON for all items under $500 Dollars
THANK YOU FOR YOUR PURCHASE AND ENJOY! HOPE YOU SHOP WITH is US AGAIN SOON!
🎖Collectables