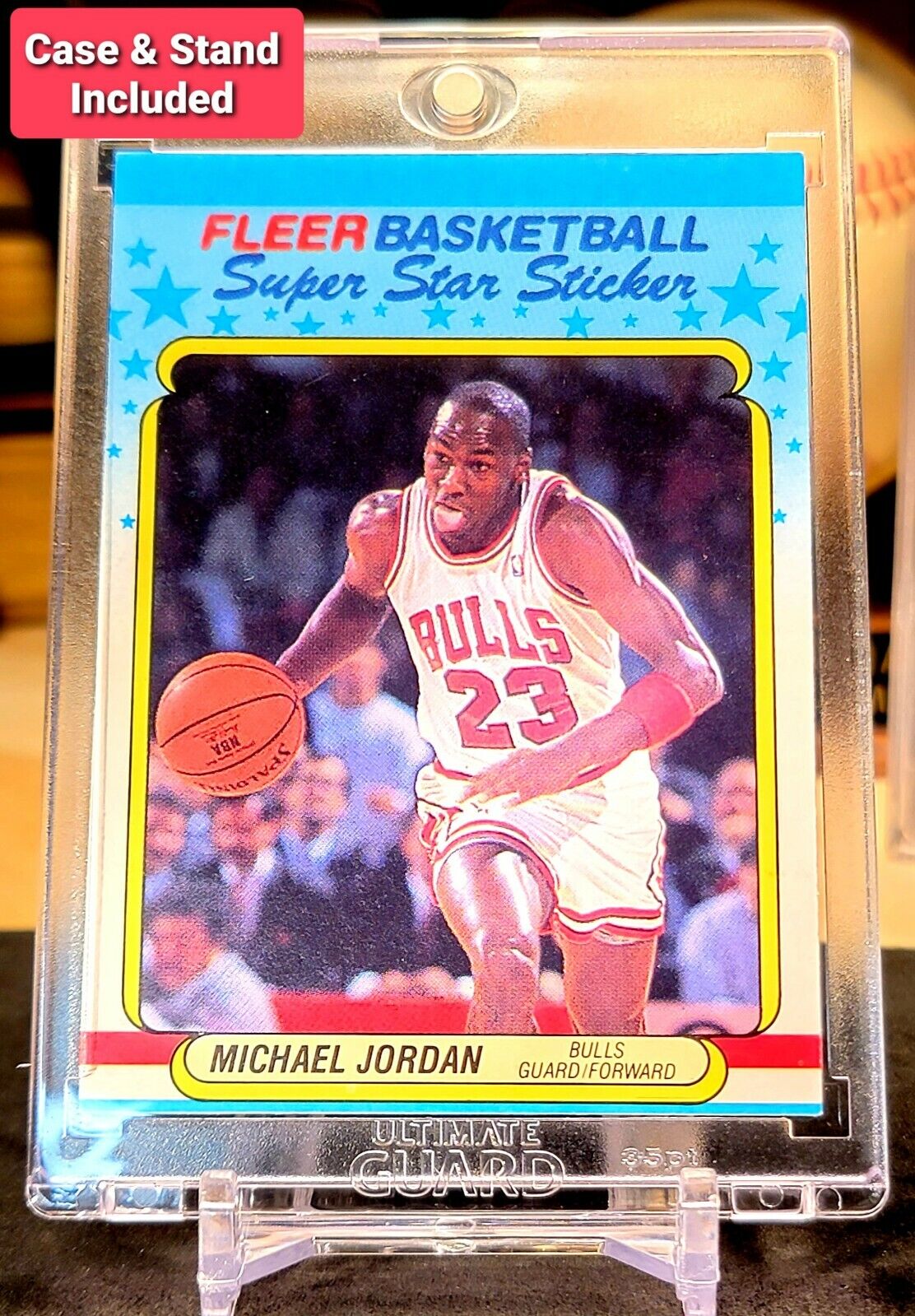 Price: 119.99 USD
Card Details:
1988 Fleer Michael Jordan Super Star Sticker Chicago Bulls Basketball Card 🏀🔥
1988 Fleer Michael Jordan Super Star Sticker Chicago Bulls Basketball Card. Read below for Authenticity (images included)
Condition of the card is NMT.
OneTouch Magnetic Case and Display Stand included ~ Padded Mailer
Been sealed in a vault for over 30 years.
The Sticker Card has wax on the back from a sealed pack.  This is common for this kind of Sticker card in the 80's. Please read on for authenticity of this particular card. From Beckett forums website / Vintage card website or simply google search it yourself for Authenticity. Please see attached images.
• The cards often have residue due to gum/wax from sealed wax packs.  (Side note, nylon or dryer sheets can help remove any wax stains on the backs of the cards). 
The commonality in staining on the stickers is important in helping to identify a fake Jordan Fleer sticker.  If you have one you're unsure about, if it has any gum/wax residue, it is very likely an authentic card. 
I proudly ship with USPS First Class mail. Delivering to America's homes since July 26th 1775. God Bless the USPS!
• International shipping available 🛩
Please allow 1 extra business day for processing
IF YOU BUY MULTIPLE ITEMS PLEASE WAIT FOR A COMBINED INVOICE
*****ADD AN ADDITIONAL 55 CENTS PER EVERY EXTRA CARD*****
Shipping
What will be packaged is the exact same card pictured in a OneTouch Magnetic Case & Display Stand within a padded mailer securely. Upon receipt of payment shipments will be processed right away. * Please note, If its a holiday ~ Sunday or any day of the week the Packers play ~ shipments will be processed the following day.
Thank you for looking!
If you have any questions or require additional images please dont hesitate. Make sure to Visit our Store for daily new releases.