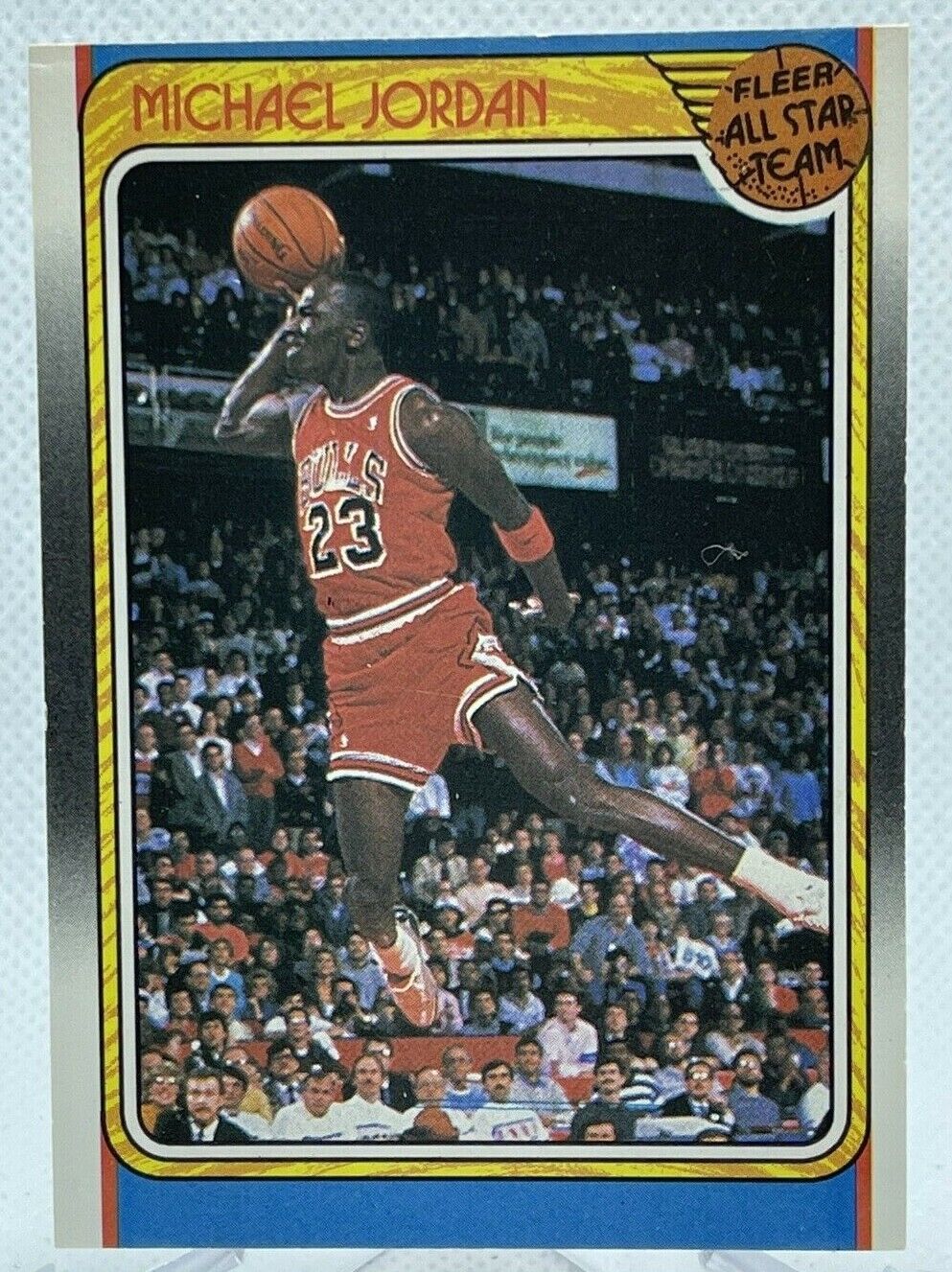 Price: 122.00 USD
Card Details:
1988 Fleer Michael Jordan NBA All-Star Team #120 Chicago Bulls New Rare
Monte_Sports_Cards E-Bay Store
Welcome to My Ebay Page!!
Return Policy
Returns are only accepted on the rare occasion the item is not as described. If you are making a return, please initiate the return process through eBay so a mailing label can be provided for you. 
Prior to listing, I did my best to assess each item and present it accurately. Please review the description and high-definition images prior to purchasing to ensure this item meets your satisfaction. I welcome you to message me if you have further questions about this item. I am not responsible for Manufactured Defects or any of the inconsistent production tactics used by the distributors when the products are made. I try to take the best pictures possible so you can view every possible factory printed defects. 
Raw Condition for Modern Cards
Unless otherwise noted, raw modern cards are listed in Mint or Near Mint condition. A NM-MT card appears to be Mint at first glance, but upon closer inspection, may exhibit some of the following: minor print defects (e.g. roller marks, print line, and dimples), minor scratches, slight edge wear, and slight corner wear. Centering is clearly visible in the images provided and does not factor into our condition assessment. Reminder: I am not responsible for manufactured defects or inconsistent production tactics used by the distributors when the products are made. All cards are opened – penny sleeved – top loaded – and stored in card storage boxes until I list them. 
Shipping
Each item purchased will have a flat shipping rate for $4.25 cents per invoiced card. The majority of this cost is for the USPS First Class shipping label that is purchased through Ebay – the rest is used towards the increasing cost of shipping supplies. Each item sold is shipped with the following protection: Penny sleeve – Top Loader – Team Bag – Taped and secured Cardboard sandwich – Bubble mailer.
I will not offer Standard Shipping or $0.99 shipping on any item regardless of the Purchase Price of the item. USPS $4.25 is the lowest shipping cost I will offer for any item purchased or won through my Auctions. 
Combined shipping for multiple items is available at $.25 cents per additional purchase. To receive combined shipping, please ensure all desired items are in your eBay shopping cart before proceeding to checkout. We automatically combine multiple orders placed on the same day. If you place multiple orders on the same day, and a total invoice is not sent, please contact us to request a refund of applicable shipping costs. We will wait 48 business hours from the time of purchase. I will not combine shipping cost orders for items purchased on multiple business days or for items listed in different auction end dates. If there are any requests or concerns in regards to shipping, feel free to reach out to me through Ebay Messenger. 
If more than 8 items are won and combined for any auction – I will automatically adjust the shipping from $4.25 USPS first class to $10.00 USPS 2 Day Priority Small Box. This is to provide extra security and protection for the items won along with automatic insurance provided by USPS. 
Signature confirmation costs, Insurance requests, and all other requested shipping upgrade costs will be passed along to the customer before the cards are shipped. I may require signature verification on certain items, and will wait no more than 48 hours for approval before re-listing the items.
International shipping will be done through Ebay's Global Shipping Program.
Thank you for visiting my Ebay Page!!
Best Regards,
Monte