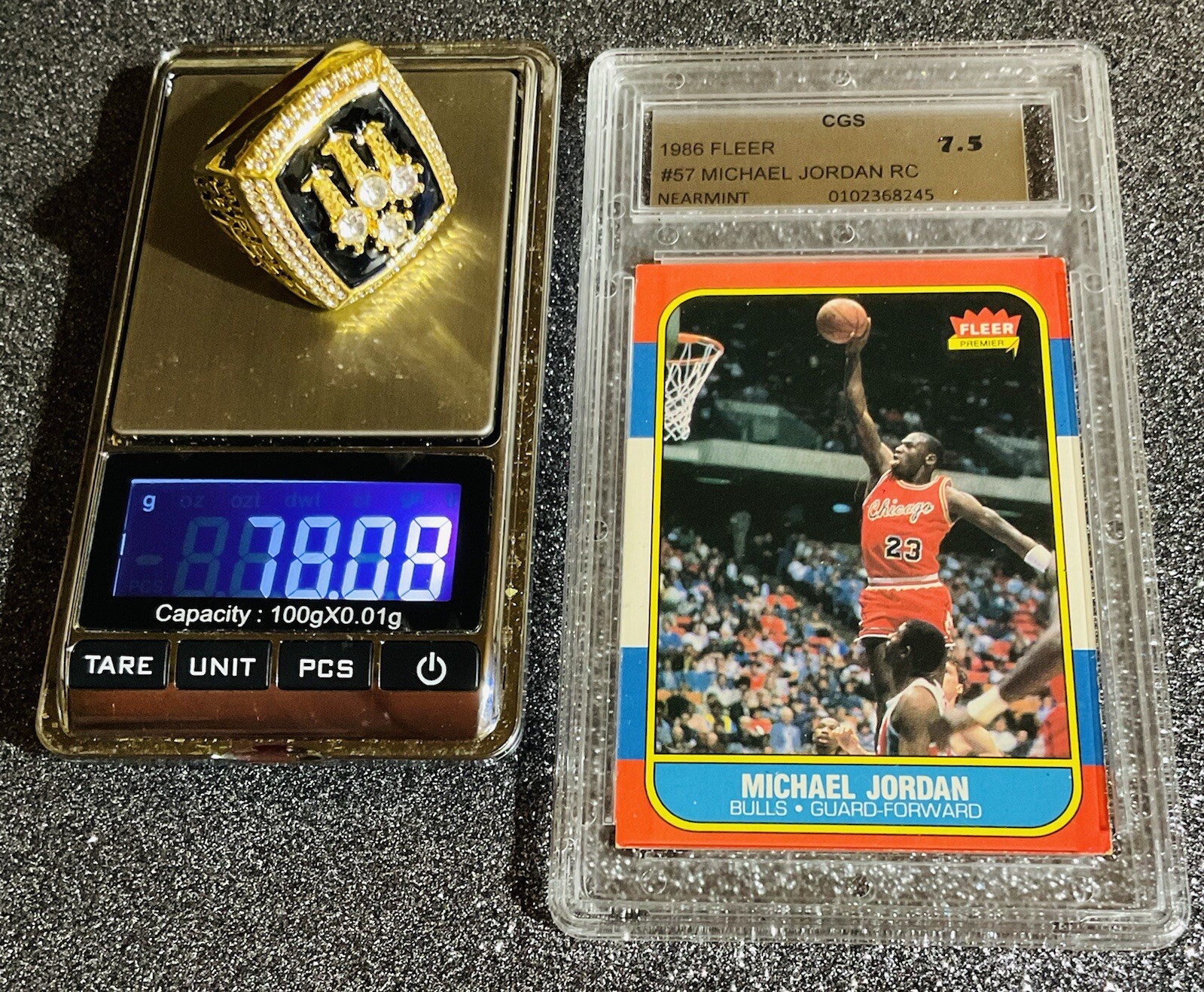 Price: 6,499.99 USD
Card Details:
1986 MICHAEL JORDAN FLEER ROOKIE #57 CGS 7.5 W/ BULLS WORLD CHAMPIONS 95-96 RING




1986 FLEER MICHAEL JORDAN ROOKIE CARD EX PLUS BASKETBALL GRADE CGS 7.5 STORE #57. REASONABLE OFFERS, SEE ONLINE STORE, LISTING DAILY AND NIGHTS, CENTERED IMMACULATE, SEE SURFACE, SEE CORNERS AND EDGES ALL AROUND, SEE PICTURES FOR YOURSELF, IF YOU HAVE ANY QUESTIONS PLEASE SEND ME A MESSAGE, SHIPPING WITH USPS, CONDITION IS USED, IF LOOKING FOR ROOKIES, JERSEYS, AUTOGRAPH, SERIAL NUMBERED CARDS, UNIQUE CARDS, ERROR CARDS, PLEASE SEE ALL OTHER AUCTIONS! LOTS OF DIFFERENT PEOPLE IN THE STORE SO TAKE A LOOK, I LOVE OFFERS IS THE NAME FOR A REASON, MOST THAT WILL HAPPEN IS WE WORK OUT A DEAL!!
ALL OTHER CARDS ARE AVAILABLE IN STORE!!! ONLY BIDDING ON THE JORDAN 1986 FLEER ROOKIE!
YES RING IS INCLUDED WITH CARD, WAS PURCHASED AS SIZE 11, COMMEMORATIVE WORLD CHAMPIONS 95-96 GOLD RING, HEAVY, I DO NOT BELIEVE REAL GOLD!!!