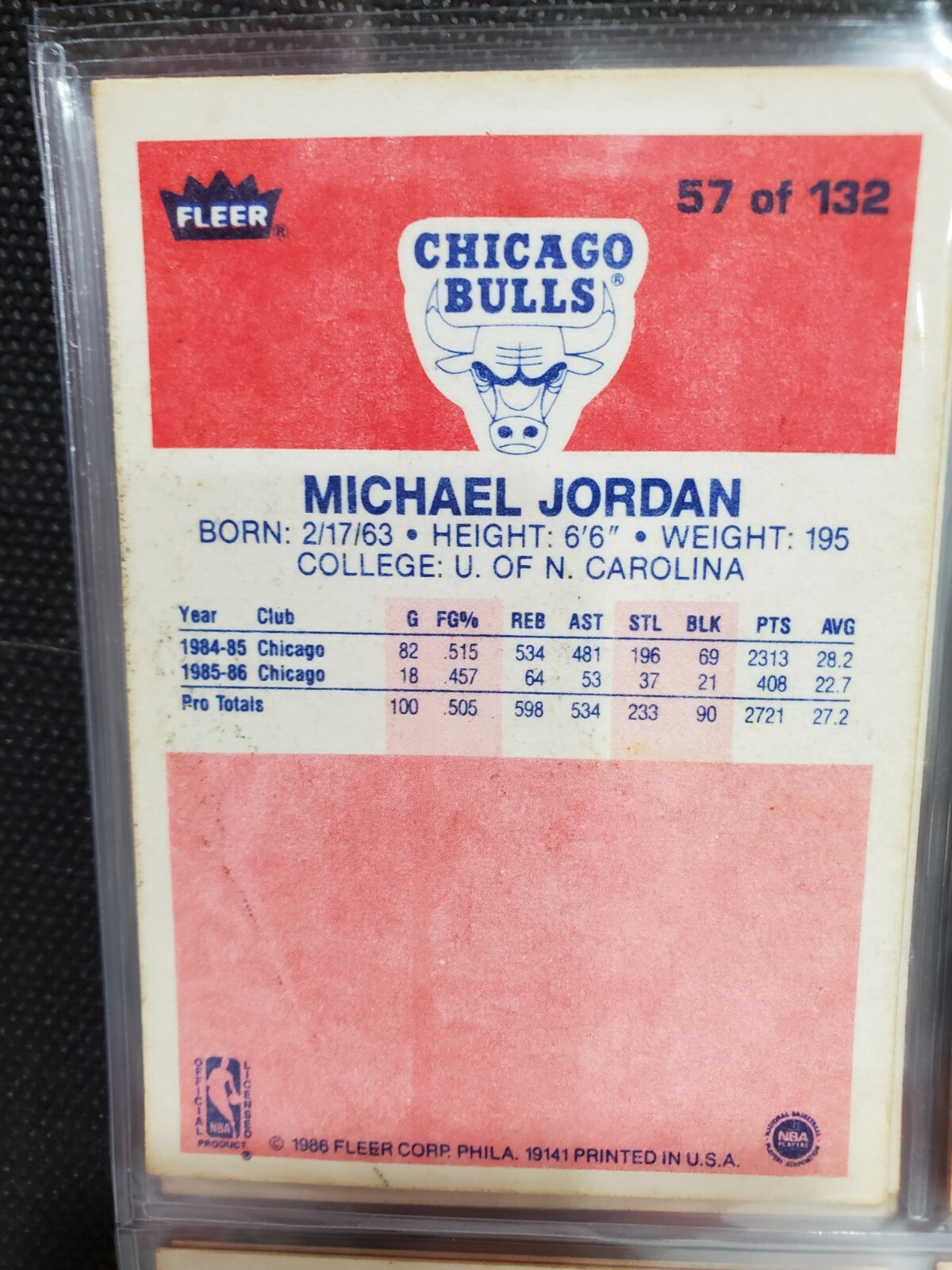 Price: 34,995.00 USD
Card Details:
1986 FLEER #57 MICHAEL JORDAN ROOKIE COMPLETE SET! MINT 10 JORDAN 45 GRADED, PSA
MAKE AN OFFER!
1986 FLEER MICHAEL JORDAN ROOKIE #57 COMPLETE SET! MINT 10 JORDAN 1988 FOURNIER BONUS.
44 GRADED FLEER IN THE SET. THE SET IS IN VERY GOOD CONDITION…. 
STAR GRADED CARDS INCLUDE: BARKLEY…. BIRD…  DREXLER…. DUMARS…  ERVING… MAGIC…. KARL MALONE… HAKEEM OLAJUWON… WALTON, WEBB AND MORE!!!!! 
45 TOTAL GRADED WITH JORDAN FOURNIER ROOKIE!!!
WILL BE SHIPPING SECURELY AND WITH INSURANCE
GRADED CARDS ARE:
JORDAN FOURNIER ROOKIE- 10!
7) CHARLES BARKLEY  PSA -7
9) LARRY BIRD – BGS -7
11) ROLAND BLACKMON BGS-6
13) SAM BOWIE – BCCG- 9
14) JOE CARROLL- BCCG-9
17) MICHAEL COOPER – BGS-6
21) ADRIAN DANTLEY BGS-6
23) WALTER DAVIS BGS-8
26) CLYDE DREXLER – PSA- 7
27) JOE DUMARS – BGS -7
28) MARK EATON- AUTOGRAPHED
29) JAMES EDWARDS- SGC -7
31) JULIUS ERVING – BGS -7
35) WORLD B FREE -BGS -6
37) ARTIS GILMORE – SGC- 8
44) DEREK HARPER -GMA- 6.5
45) GERALD HENDERSON – SGC-8
53) MAGIC JOHNSON -BGS – 7
55) STEVE JOHNSON BCCG- 9
58) CLARK KELLOGG -PSA- 8
60) BERNARD KING – PSA -7
68) KARL MALONE -PSA – 7
76) JOHNNY MOORE – BGS- 7.5
78) LARRY NANCE – AUTOGRAPHED
81) CHARLES OAKLEY – GMA-8
82) HAKEEM OLAJUWON – BGS-7
84) ROBERT PARRISH -BGS -8
85) JIM PAXSON SGC- 8
86) SAM PERKINS -PSA-7
89) KURT RAMBIS – SGC – 7.5
90) ROBERT REID – BGS- 8.5
91) DOC RIVERS – GMA-8
92) ALVIN ROBERTSON – BGS- 6
94) TREE ROLLINS- BGS -8
96) JEFF RULAND – PSA -7
111) MYCHAL THOMPSON – BGS-6
116) MELVIN TURPIN -BGS- 6
118) JAY VINCENT – BCCG- 9
119) BILL WALTON – PSA – 8
120) SPUD WEBB – PSA – 7
123) BUCK WILLIAMS BGS-8
125) HERB WILLIAMS BGS -8
126) KEVIN WILLIS- PSA-8
131) JAMES WORTHY- PSA -7