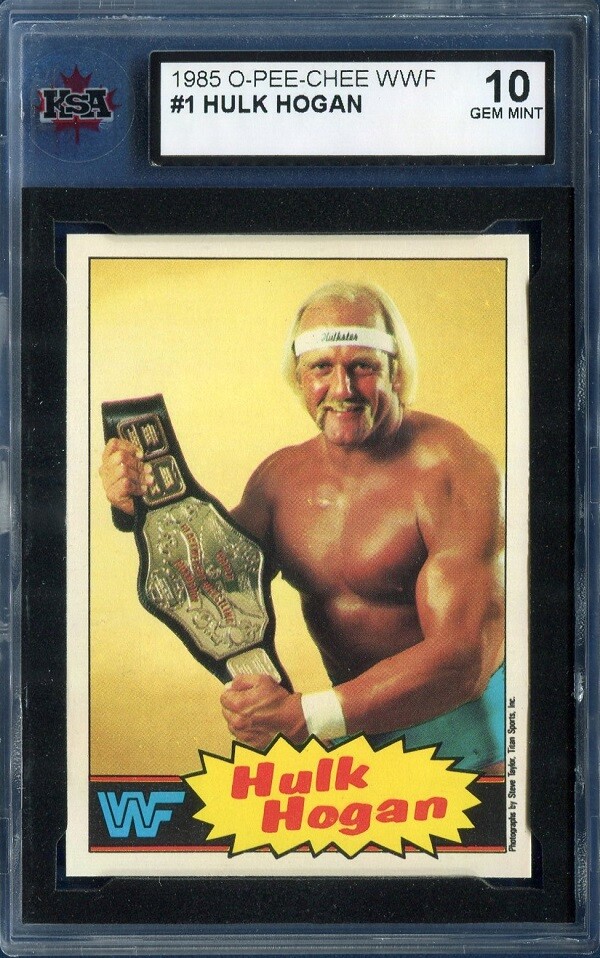 Price: 6,000.00 USD
Card Details:
1985 OPC #1 Hulk Hogan Rookie KSA 10 Gem Mint ~ O-Pee-Chee + PSA
1985 OPC #1 Hulk Hogan Rookie Card graded KSA 10 Gem Mint. Freshly slabbed by KSA, the quality of this card represents every bit of Gem Mint 10 criteria from any grading company. The Canadian version of this card was produced in very limited quantity with o-pee-chee testing the wrestling market for the first time. Compared to the Topps Hogan #1 rookie, estimated production numbers of the OPC print run is in the 5-10% range, leaving extremely limited copies of this OPC card in any grade. For the most discerning collector or investor who desires a rookie card that will hold it's own in any market condition. The last dance Netflix documentary started it all for the stratospheric rise of the 1986 Fleer Michael Jordan rookie, will the same happen to this Hogan rookie after his documentary is released? 
We have scanned a PSA 9 card for comparison in quality to the Hogan Gem Mint 10…as you can see the PSA 9 card is much more off center, slightly diamond cut and has a significant print spot on the border. We will include this card in the package so you may see the difference for yourself.
About us:We have been a full time Sportcard and Memorabilia business since 1981, and one of the leading buyers in North America for hockey,baseball and non-sports from 1910-1988. We typically just list a handful of our items on ebay, but play a major role in filling want lists for some of the top collections in the world. We pay absolute top dollar for your items and also offer a finders fee of any purchase we make as a result of your information. Feel free to send us an email if you would like a price on an item you have for sale, or for appraisal purposes. Or if you have a want list rare items, you may have just found the perfect place for your list. We look forward to hearing form you.
Authentication: All of our game used/worn items and signed memorabilia are 100% guaranteed authentic. Unless the item comes with a personal COA from the player or the team, we will send our own letter of authenticity with each item. As well, all of our un-opened wax packs/boxes have been fully inspected and 100% guaranteed real and original.
Terms and Conditions:Paypal is our first choice of payment, but you must have a confirmed address for us to ship. Most items are available for pick-up in person, but you will be required to pay certified funds/cash in person. Canadian residents are required to pay any applicable taxes, no exceptions. If Canadian residents pay for an invoice before taxes are added, we will send a separate paypal invoice for the balance.
Shipping:Fedex shipping included with coverage up to 100.00, additional coverage available upon the buyers request.  Thank you.